Endorsements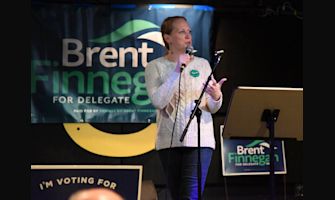 Candidate for US Congress 2018, Candidate for House of Delegates (District 20) 2019
---
"
I am enthused for the opportunity to endorse Brent Finnegan for House of Delegates in Virginia's 26th district for a number of reasons. First, his work ethic. He constantly puts in the work - not just for his own campaign but for the party and other various causes. He's out canvassing, phone banking, volunteering for other candidates, and he uses his voice and platform to advocate for the community every day. During my congressional campaign last year, Brent was there from day one and I could always rely on him for advice and support. He helped with my announcement all the way through to election night and was absolutely instrumental in my campaign. I could not have done it without him. Second, is his commitment to the community. Every community event of importance, Brent is there. Standing with poultry workers, for prison reform, and immigrant rights. Brent doesn't just show up when he needs your vote, he's shown that he's in it for the right reasons - to be a part of the change we desperately need in our government. Brent is the fighter we need to represent working class people trying to make a living wage, access to affordable healthcare, and equal opportunity education. Brent will fight for an equal, just, and healthy community. Third, Brent has been fighting against the pipelines for the last five years. As President and founder of Friends of Augusta, we endorsed him during his last House of Delegates race because of his commitment to stop the proposed Atlantic Coast Pipeline and the corruption that it represents. Brent will fight for the environment, our water, and private property rights in Richmond. Brent cannot be bought off, he's not taking any corporate PAC money, showing us that when he goes to Richmond, he will be working for us, not special interests. I hope you will join me in supporting Brent Finnegan for the House of Delegates. He will be the honest, hardworking, and dedicated representative we deserve to have in Richmond.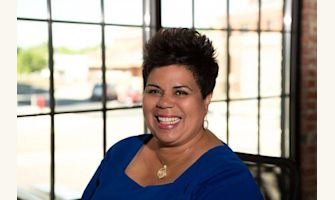 Deanna Reed
---
"
I endorse Brent Finnegan because he leads with humility, he values all voices, and he has a passion to build stronger communities. Brent Finnegan is the change we need in Richmond.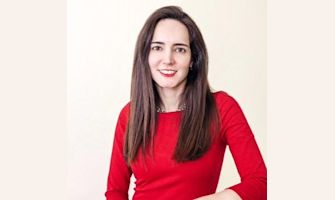 Human rights attorney, Candidate for Virginia State Senate
---
"
I'm happy to endorse Brent Finnegan for Virginia House of Delegates in District 26. I met Brent in 2016, as we were both working on efforts to reform the Democratic Party in Virginia and pass the most ambitious resolutions package in the history of the DPVA. Brent has proven his collaborative leadership approach in his efforts to end the corrupting influence of big money in Virginia politics, standing up for the dignity of immigrants and refugees in the Shenandoah Valley, and fight for a fair wage for Virginia workers. The yard signs that say "No matter where you're from, we're glad you're our neighbor" originated in HD-26. Brent will represent those values in the General Assembly. I look forward to working with Brent in Richmond to continue the work of building a Virginia that is equitable, just, and fair for all of us.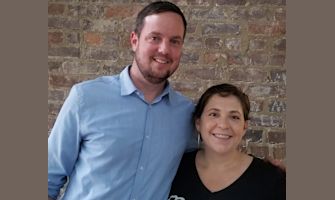 Paloma Saucedo
---
"
Brent shows up! He listens and he gets involved in the issues that our community cares about. Today I am proud to acknowledge his commitment to social change and to building local community power. As an independent political organizer, I am not afraid of crossing political lines to support the candidate that advances the best vision of tomorrow and seeks a more innovative and just community. That's you, Brent!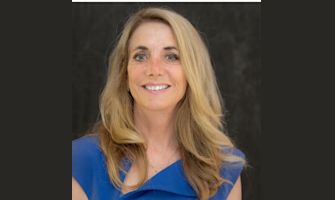 Former Candidate for VA House of Delegates
Angela Lynn
---
"
I am pleased to endorse Brent Finnegan for Virginia House of Delegates. Brent has proven his commitment to the people of the 26th by working for justice and fairness, time after time, in every corner of his home district. Brent shows up not just for a vote or the fanfare but for the causes and the people in the rural area he wants to represent. Brent Finnegan would make a great Delegate.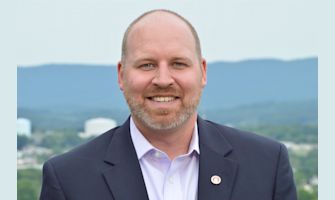 Former Mayor of Harrisonburg, former candidate for US Congress and VA House of Delegates
Kai Degner
---
"
I endorse Brent Finnegan because he is a reliable leader with a clear vision and consistent values. He's a team player and a listener, and I trust Brent to advocate for state and local policies that will help my family and our entire community be healthy and successful. Please vote for Brent on June 11!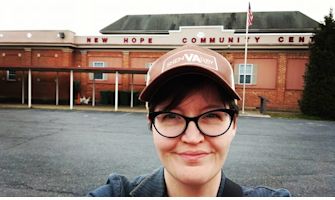 Candidate for VA House of Delegates, District 25
---
"
I am proud to endorse Brent Finnegan for Delegate. The first time I heard Brent Finnegan speak was at a candidate forum in 2017. It was obvious to me at that event that Brent is an issues oriented candidate whose primary focus is that of equality and dignity for all humans. For too long rural communities have been "represented" by people more interested in towing a party line than sitting down and having honest conversations about what needs to be addressed in rural Virginia. Brent has proven that he is willing and able to have those conversations and move them forward in a positive and productive way. Brent has been a tireless worker within his community. Not waiting around until the next election cycle to get involved, Brent worked on the campaigns of Jennifer Lewis and Sal Romero in 2018. His experience on the Harrisonburg Planning Commission has kept him engaged with the people he wants to represent in Richmond. We have to look for leaders who are there for us even when there are no votes in it for them. Brent Finnegan is the voice the 26th district has been waiting for, and the voice they deserve.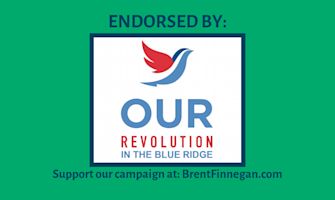 Our Revolution in the Blue Ridge
Community Endorsements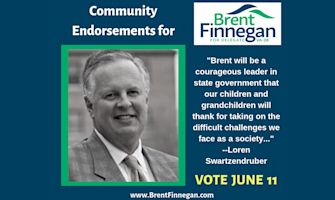 President Emeritus at Eastern Mennonite University and Senior Business Development Associate at Secure Futures
Loren Swartzendruber
---
"
I am convinced that the greatest challenge we face in our time is the negative impact of climate change. Facing this crisis and proposing systemic solutions demands effective political leadership at all levels of government, local, state, and federal. Brent will be a courageous leader in state government that our children and grandchildren will thank for taking on the difficult challenges we face as a society—not only to address climate change but to strengthen our educational institutions, create a fair and just economy that works for all citizens, and propose changes to our health care system that disadvantages vulnerable populations.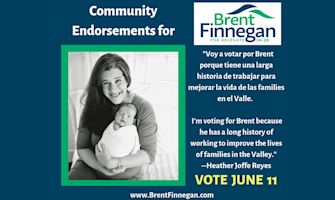 Heather Joffe Reyes
---
"
Voy a votar por Brent porque tiene una larga historia de trabajar para mejorar la vida de las familias en el Valle. I'm voting for Brent because he has a long history of working to improve the lives of families in the Valley.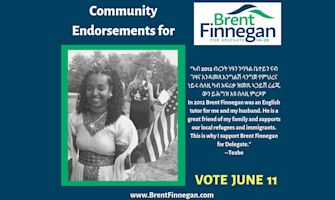 Teabe
---
"
ኣብ 2012 ብረንት ነዓን ንባዓል ቤተይን ናብ ገዛና እንዳመጸ እንግልሽ ላንግጅ የምህረና ነይሩ ሰለዚ ካብ አፍሪቃ ዝመጹ ኣጋይሽ ረፊጂ ውን ይሕግዝ እዩ ስለዚ ምረጾዎ In 2012 Brent Finnegan was an English tutor for me and my husband. He is a great friend of my family and supports our local refugees and immigrants. This is why I support Brent Finnegan for Delegate.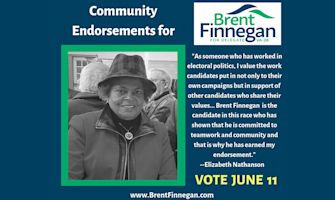 Elizabeth Nathanson
---
"
As someone who has worked in electoral politics, I value the work candidates put in not only to their own campaigns but in support of other candidates who share their values. It is important that candidates are informed on policy and the issues that impact their community but they also need to do the work of building their local party in order to effectively bring change. Brent Finnegan is the candidate in this race who has shown that he is committed to teamwork and community and that is why he has earned my endorsement.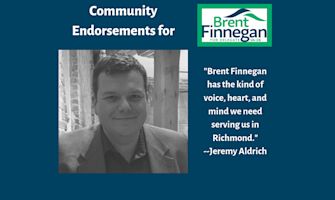 Jeremy Aldrich
---
"
Brent Finnegan has the kind of voice, heart, and mind we need serving us in Richmond, where so many decisions happen that impact our daily lives. He sees the big picture in seemingly small decisions, and is always focused on the human impact of public policies. As our delegate, he will listen and make smart, responsible votes. I am proud to support and endorse Brent for the June 11 primary.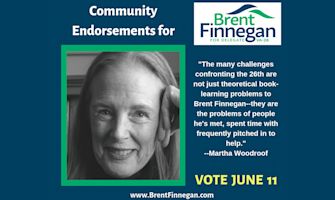 Martha Woodroof
---
"
The many challenges confronting the 26th are not just theoretical book-learning problems to Brent Finnegan--they are the problems of people he's met, spent time with frequently pitched in to help. These are depressing, discouraging, rather tawdry times,and it gives me hope to think of smart, honest, out-of-the-box thinking, hard-working Brent Finnegan representing me and my fellow 26th District-ers in the General Assembly.
Chris Bolgiano
---
"
An an environmental writer focused on forestry and wildlife, I have found Brent Finnegan to be both knowledgeable and conservative, as in "to conserve," in his approach to natural resources. I have also been heartened by his commitment to environmental justice, as witnessed by his interest in policies that would make energy independence through solar panels accessible to low income households and communities. And in general, I have been impressed by his efforts to hear all voices in our diverse Valley communities, which is the best prelude to representing them.
Bakhtiyar Ali
---
"
It was late summer of 2016, when for the first time I had a chance to meet Brent. Since that time we have had a chance to talk and discuss some issues that relate to all of us. I found Brent so caring and active in dealing with the difficulties of the people of district of 26. He has a very broad and open mind. With the experience and awareness that Brent has accumulated in the last decades and a half, I have full confidence in him, that he will be the only and best candidate to represent the needs and concerns of the people of district 26 in Richmond. He is the man, and he can do it.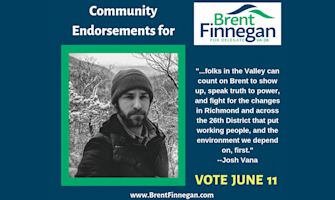 Josh Vana
---
"
I met Brent while knocking doors in the spring of 2016, and it was immediately clear to me that he's a person committed to honoring and supporting the work of the grassroots in the Valley. Whether it's showing up to march with Union workers on strike who are fighting for a just contract, or refusing campaign contributions from monopoly polluters like Dominion Energy, Brent consistently aligns his efforts with the voice of working people, rather than the voice of corporate interests. In a time when our communities and ecosystems are in dire need of a just transition to a green economy, with a focus on environmental and social justice, folks in the Valley can count on Brent to show up, speak truth to power, and fight for the changes in Richmond and across the 26th District that put working people, and the environment we depend on, first.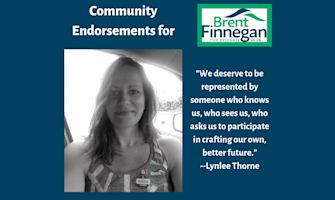 Lynlee Thorne
---
"
I've never lived in place that has a stronger sense of community than right here in Rockingham County and the Shenandoah Valley. A year or so after I became involved in grassroots organizing here, I created a map that looks like a web of local and regional organizations doing incredible work in the fight for dignity, justice, and equity. I drew this map with colored markers borrowed from my children, nothing fancy. It's a visual I conjure when I feel the weight of all the problems we need to address. It serves as a reminder that so many dedicated and talented people are hard at work, taking personal responsibility for making our community a stronger, more resilient place. It's a reminder that in the face of systemic injustice, the deterioration of our climate and many other imposing challenges there are members of our community who make the choice to respond with their work, developing solutions with and for each other and the place we call home. I met Brent Finnegan at a mutual friend's farm around a bonfire. I was new to the area, just settling in and starting to find my place here. As I started attending community events, I saw Brent everywhere. Following the 2016 election, Brent reached out to friends and contacts in his hometown of Broadway and others in Fulks Run, Singers Glen, Timberville and Bergton. He knew that many within those communities were concerned by the results of the election and the amplified messages of bigotry that targeted their loved ones and neighbors. That group, Rural Voices, went on to engage in difficult community conversations, to host events and take on projects together in an effort to make decency visible in an uncertain time. In 2017, Brent was invited to a meeting with other local organizers. The purpose of this meeting was not clear to Brent until it was underway. It was a surprise effort to recruit him to run for the House of Delegates. It took some coaxing but together, with old and new friends, Brent pulled together a campaign and stunned the Republican incumbent, taking over 45% of the vote. Since then, Brent has maintained his presence in the community, supporting events and attending meetings of the many local organizations that share the values that have motivated him to do the work consistently over the last 14 years. There are many things that make Brent a qualified leader. I want to highlight 3 of those. 1. Brent's experience on the Harrisonburg Planning Commission and his role at the Institute for Innovation in Health and Human Services have prepared him for the work of legislating effectively. Not only is Brent in possession of the writing and comprehension skills needed to pursue public office, he has an insatiable thirst for common sense policy, always looking for ways we can improve the health of our community by making necessary changes to the systems that impact our daily lives. 2. In Brent's years of organizing, he has developed the skills necessary to collaborate and build coalitions, sifting through the arguments and difficult conversations to find the essential pieces that bring people together and move us closer to justice. 3. Running for office requires knowledge and experience in electoral politics and the work needed to get out the vote. Brent has maintained a consistent presence at local Democratic committees, worked on multiple campaigns and has built relationships with the people who get the work done on the phones and at the doors. Brent has been doing that work alongside them year after year, and shown respect and gratitude for both the work and the people committed to it. Our community has a wealth of talent, ability, and knowledge available to identify the issues we need to address and the practical solutions needed to solve them. We deserve to be represented by someone who knows us, who sees us, who asks us to participate in crafting our own, better future. I trust Brent because I see that what motivates him to be involved is a love for the people of this community and a relentless determination to insist that we do better for our families, our neighbors, and our environment because we can and we must. I was proud to vote for Brent already this year and I ask that you do the same on June 11.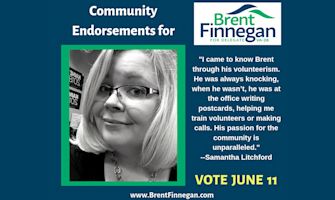 Samantha Litchford
---
"
As the 2018 Coordinated Campaign field organizer for Harrisonburg and briefly Rockingham, I came to know Brent through his volunteerism. He was always knocking, when he wasn't, he was at the office writing postcards, helping me train volunteers or making calls. His passion for the community is unparalleled. This District was my home for 7 months, and it's people hold a special place in my heart. I know Brent will fight for the people of the 26th District and bring their voice to Richmond.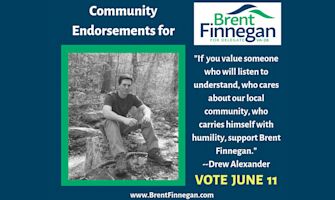 Drew Alexander
---
"
If you value someone who will listen to understand, who cares about our local community, who carries himself with humility, support Brent Finnegan.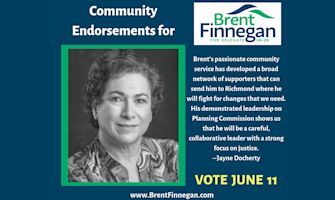 Jayne Docherty
---
"
Brent's passionate community service has developed a broad network of supporters that can send him to Richmond where he will fight for changes that we need. His demonstrated leadership on Planning Commission shows us that he will be a careful, collaborative leader with a strong focus on justice.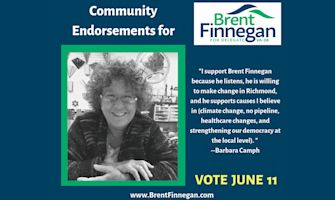 Barbara Camph
---
"
I support Brent Finnegan because he listens, he is willing to make change in Richmond, and he supports causes I believe in (climate change, no pipeline, healthcare changes, and strengthening our democracy at the local level). I also believe that Brent has the best chance of winning this election in November.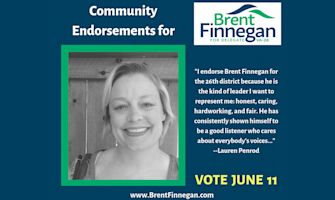 Lauren Penrod
---
"
I endorse Brent Finnegan for the 26th district because he is the kind of leader I want to represent me: honest, caring, hardworking, and fair. He has consistently shown himself to be a good listener who cares about everybody's voices, not just the loudest ones. Brent's values are not for sale to corporate PAC's. I know he will fight for the decisions that will most benefit my family, my businesses, and my community.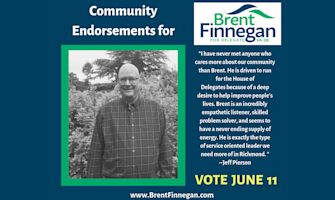 Jeff Pierson
---
"
I won't be able to vote in Harrisonburg on June 11, but luckily this year's primary allows for absentee voting, so I have already cast my vote for Brent Finnegan. I have never met anyone who cares more about our community than Brent. He is driven to run for the House of Delegates because of a deep desire to help improve people's lives. Brent is an incredibly empathetic listener, skilled problem solver, and seems to have a never-ending supply of energy. He is exactly the type of service-oriented leader we need more of in Richmond. Please join me in supporting Brent at your regular voting location on Tuesday, June 11 or by voting absentee at the Harrisonburg or Rockingham County voting registrar's office, happening now from 9-5 weekdays.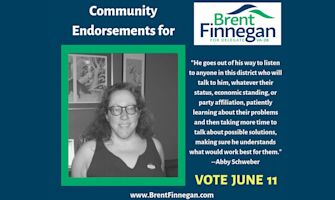 Abby Schweber
---
"
The first thing I ever noticed about Brent is how many places he turned up. Every community activity, every protest, every event supporting another Democratic candidate that I've been to in the past few years, Brent was there, whether he was a featured speaker or just part of the crowd. The second thing I noticed is that every time I've seen Brent, in between talking about his values and the causes he believes in, he's been listening. He goes out of his way to listen to anyone in this district who will talk to him, whatever their status, economic standing, or party affiliation, patiently learning about their problems and then taking more time to talk about possible solutions, making sure he understands what would work best for them. As I've gotten to know him better, I've seen that all that listening and discussion has given Brent a deep understanding of the issues of our district and real insight into the ways that our state government could make things better. We need to send Brent to Richmond because he will work hard to implement practical policies that will improve our community, our environment, and our lives.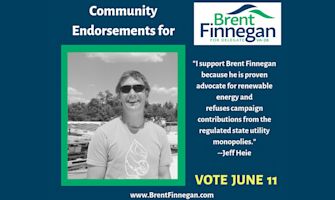 Jeff Heie
---
"
I support Brent Finnegan because he is proven advocate for renewable energy and refuses campaign contributions from the regulated state utility monopolies.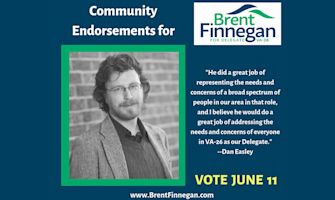 Dan Easley
---
"
I worked with Brent at WVPT from 2003 to 2007, as he produced award-winning documentaries about complex issues affecting the Valley. I was impressed by Brent's desire and ability to understand as many perspectives on an issue as possible. He did a great job of representing the needs and concerns of a broad spectrum of people in our area in that role, and I believe he would do a great job of addressing the needs and concerns of everyone in VA-26 as our Delegate.